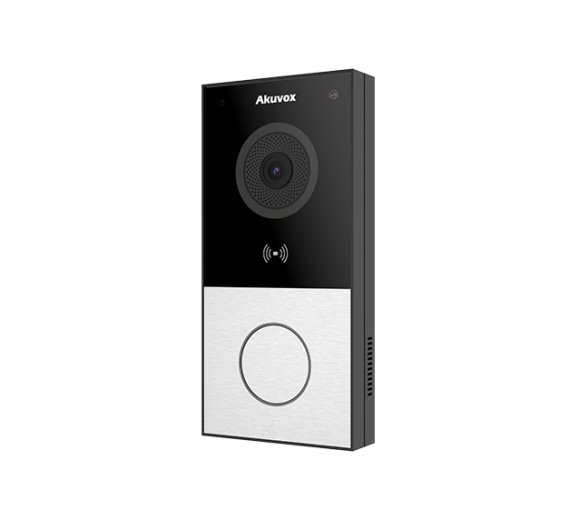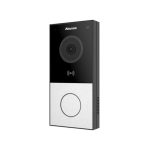 Akuvox Doorstation E12W
E12 is a single-button SIP video door phone for all types of front doors, be it houses, apartments, or condos. Despite a slim body, it boasts many cutting-edge features, such as mobile access and wireless communication.
Description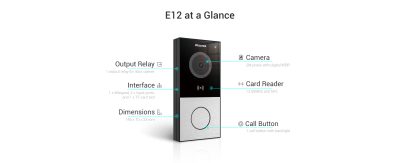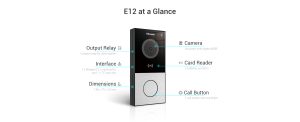 The security that comes with being able to control who comes into your building along with the ability to verbally and visually confirm their identity is immeasurable. Akuvox's Video Doorphone E12W alerts you when the bell is rung and lets you see and speak with visitors from your smartphone (optionnal pay service), from anywhere.
Features:
Real-time 2-way talk;
Live camera viewing;
Cloud or local based storage;
Rated for outdoor use;
Mobile App compatible;
Integrated with any SIP device
Specifications:
Physical & Power
Body Material: Plastic
Camera: 2M pixels, automatic lighting
Button: 1 call button with backlight
Wiegand port: Support
RF card reader: 13.56MHz
Light sensor: 1
Relays out: 1
Inputs: 2
Micro SD card slot: 1
Microphone: -36dB
Speaker: 8Ω / 1.5W
Ethernet port: RJ45, 10/100Mbps adaptive
BLE: Yes
WiFi: IEEE802.11b/g/n, 2.4GHz
Vandal alarm: Yes
802.3af Power-over-Ethernet
12V DC connector (if not using PoE)
Water-proof & Dust-proof: IP65
Installation: Wall-mounted
Size: 146x70x23mm
Working Humidity: 10~90%
Working Temperature: -40°C ~ +60°C
Storage Temperature: -40°C ~ +70°C
Audio
SIP v1 (RFC2543), SIP v2 (RFC3261)
Narrowband audio codec: G.711a, G.711μ, G.729
Broadband audio codec: G.722
DTMF: In-band, out-of-band DTMF (RFC2833), SIP Info
Echo Cancellation
Voice Activation Detection
Comfort Noise Generator
Video
Sensor: 1/2.7", CMOS
Pixels: CIF, QCIF, VGA, 4CIF, 720p, 1080p
Video codec: H.264, H.265
Video resolution: up to 1920x1080p
Max. image transfer rate: 1080p – 25fps
Viewing angle: 123°(H) / 69°(V)
White LEDs for picture lighting during dark Hours with internal light sensor
Door Entry Feature
Relays controlled individually by DTMF tones
Camera permanently operational
Auto-night mode with LED illumination
White balance: auto
Minimum illumination: 0.1LUX
Networking & Protocol
Protocols support: IPv4, HTTP, HTTPS, FTP, SNMP, DNS, NTP, RTSP, RTP, TCP, UDP, ICMP, DHCP, ARP
Deployment & Maintenance
Auto-Provisioning
Web management portal
Configuration backup / restore
Entry log export
Access table export / Import
 Firmware upgrade
 System logs (include door access logs)